The Phillips Family was our first documentary family photography client of 2019. Debbie reached out to me with the hopes that my candid shooting style would better capture the unique personalities of each of their children. We decided a balanced "DocuStyle" session (half organic documentary, half directed lifestyle) would best meet her expectations and family needs.
Session Details
We started the session in the playroom of their beautiful home. In the comforts of their normal play routine, each child quickly let their personalities shine so I could capture them. Harry, Grace, and Ava have such a wonderful dynamic when they play; each mindful of one another while still being completely true to themselves and holding their own space.
They played for about 20 minutes and then we took advantage of the mild Florida winter and headed out to their swing set followed by a walk around Tibet Butler Nature Preserve. Grace had a chance to further demonstrate her astonishing gymnastic skills. Ava, amused by the camera, occasionally paused for a moment or two for a portrait. Harry, being the big brother, looked for ways to show off just how strong he had become by picking up not only his sisters but his mom too! We laughed so much during this hour and a half session that the time just flew by!
Image Presentation & Printing Consult
A few days later I came back to their house to present their highlight slideshow and talk about the print options I offer. I noticed their house was peppered with framed pictures from over the years. It brought a warmth and life to the house, and truly made it feel like theirs.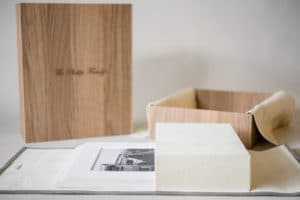 We discussed the pros and cons of committing to canvas/standout options versus matted prints, and ultimately they ordered one of my favorite products: a portfolio box with a set of their favorite images in matted prints.
This gives them the option to frame and show off the images now, and then a safe place to store them as they inevitably need the wall space to showcase more recent images. My favorite feature of the matted prints is that you can write a little message on the back of the mat knowing that you aren't damaging the print.
To learn more about our DocuStyle sessions, please fill out our contact form.